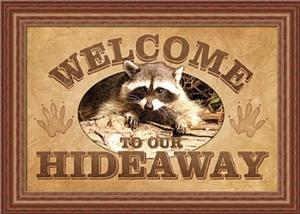 Henderson's Outposts
We invite you to experience a much needed quiet wilderness vacation, hearing the sound of loons while sitting in the screened porch enjoying your a cup of coffee and watching the sunrise first thing in the morning. Listening to the sound of birds and the wind blowing in the leaves of the trees. Admiring a family of ducks swimming in front of the dock and a beaver pulling a branch across the bay. Hearing the splash when the fish comes out of the water. A vacation to just admire nature. No sounds of cell phone...no sounds of sirens...no sounds of vehicles..... That is all the noise you will hear during your stay at Henderson's Outposts Ltd.
Experience some of the finest fishing to be found in Northern Ontario. Located 23 miles East of Chapleau Ontario, on Ivanhoe Lake in the Ivanhoe Provincial Park, is a pristine fly-in only river, a river of many bays and islands offering excellent fishing for Walleye, Great Northern Pike and Small Mouth Bass.
Henderson's Outposts Ltd. is centrally located on Ivanhoe Lake and offers many advantages to our guests. Not only are many excellent fishing areas close by – but one of the best fishing is to "Catch Them Right Off the Dock." Guests have caught and released many times their limit right off the dock. The fishing is that good.
Relax In Your Own Private Fly-In Deluxe Outpost
Rough it in comfort! With addition of running water and electricity in the cabin you can now experience the amenities of home while fishing the pristine waters of the beautiful Northern Ontario.
At the end of a perfect day, you can sit by the shore of "your" lake and admire the breathtaking sunset and if you are lucky enough take in the beauty of the northern lights during your evening relaxation in the screened porch. You will close your eyes knowing the big one that got away today, you will be sure to catch tomorrow.
Don't forget your camera, for many wildlife along the river: Moose, Bears, Wolves, Rabbits, Beavers, Bald Eagles and so much more...